Viscose 3D printing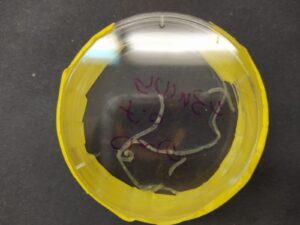 In recent years, the field of 3D printing has been developed significantly. 3D printing has many advantages for products, such as shape optimization, accuracy, complex geometries, and on-demand production. This allows for products to be customized to suit the consumer's dimensions and personal needs.
However, in the field of fashion, there is still a long way to go in order for these advances to bear fruit. One reason for this is the raw materials that are currently used in 3D printing. These materials are not sufficiently suited in terms of material properties, comfort, quality, or durability to be used for clothing.
In order to bridge this gap, in this study, We are testing the feasibility of textile production by regenerating viscose fibers within a medium of acidic nano-cellulose gel, to form fibers and textile structures. We are examining the qualities of the properties of different textile structures, such as strength, flexibility, and durability and I am modeling the textile structures using a parametric design tool. The ultimate goal is to create wearable objects in 3D printing technology that will meet the needs of everyday wear and the needs of the textile industry.
This research is conduct in collaboration with the laboratory of Prof. Oded Shoseyov from the Faculty of Plant Sciences and Genetics in Agriculture, the Hebrew University, who advises the research and support the chemical engineering aspects of the project.
Customization of bras for women who have undergone mastectomy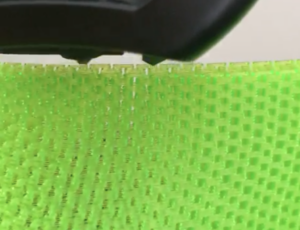 Many women around the world who have undergone mastectomy face various problems
related to the bra and prosthesis. There are few developments and innovations in the field
and many problems in existing solutions, such as lack of customization, displacement of the
prosthesis inside the bra the heavyweight of the prosthesis, excessive sweating. All of these
increase the insecurity and hard feelings that many women feel after mastectomy.
In this study we are researching and developing a bra that has a prosthesis built into it,
customized for women who had undergone a mastectomy, which will be printed in three
dimensions. The study involves several women who have had breast cancer and underwent
a mastectomy. After in-depth interviews and understanding of different needs, each woman
will undergo a three-dimensional scan of the breast which will be used to customize a bra
for her, each according to her personal need. The adjustment of the bra will be done on a
computer in a design tool that allows the body of the bra and prosthesis to be printed soft,
flexible, airy, and lightweight. The bra will be printed with TPU on a 3D FDM printer.
Mastectomy makes many women feel that their femininity has been taken away from them,
they are ashamed of their bodies, embarrassed in front of their partners, and are afraid to
start new relationships. I aspire to change those feelings. Hopefully, this bra will turn the
disadvantage into an advantage, it will fit well, be comfortable and pleasant, and most
importantly, allow the woman who wears it to feel like it is a complementary organ.
Knitted Textile Objects Containing Rigid Structures
Textile products are usually made in a long multi-step production line that includes (apart from the raw material processing) designing, cutting, and assembly of parts. Therefore, waste is generated along with the desired finished product. Recently there has been an effort to create seamless and minimal waste production lines. However, those approaches are not suited to fabricate textile products containing rigid structures like shoes, bras, or knee pads. These products are considered hard to recycle since they have multiple materials and must be taken apart before recycling. Thus, such products often pollute the environment at the end of their use.
There's a need to use alternative materials and introduce new fabrication methods that will enable the fabrication of these products with minimal waste by-products and fast recycling or biodegradation processes. This research uses scientific research methods as well as design thinking to expand both fields and seeks to create a new method to fabricate fully knitted textile objects containing soft textile as well as rigid structures using one biodegradable material that alters its properties under specific conditions.